Tuna-Fish Salad
I serve this tuna salad on a bed of lettuce with tortilla chips. It's fun for the kids to dip the chips in the salad, and I'm happy because they're getting a helping of a low-fat protein.
Yield: serves 5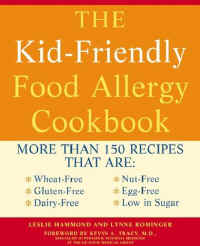 1/3 cup (80 grams) mayonnaise*
1/4 cup (35 grams) finely diced onion
2 tablespoons sweet or dill relish
1 tablespoons prepared mustard
1/2 small cucumber, diced
1/3 cup (50 grams) diced tomatoes
1/4 cup (15 grams) fresh chopped parsley
Squeeze of lemon
Salt and pepper to taste
2 6-ounce (170-gram) cans albacore tuna, drained
In a medium-size bowl, mix all ingredients together except the tuna. Add tuna last and stir.
*Egg substitute: Use egg-free mayo.
Source: The Kid Friendly Food Allergy Cookbook by Leslie Hammond with Lynne Rominger
More Than 150 Recipes That Are Wheat-Free, Gluten-Free, Nut-Free, Egg-Free, and Low in Sugar
Buy The Kid Friendly Food Allergy Cookbook in the US - EU
More recipes from "The Kid Friendly Food Allergy Cookbook":
- Chewy Granola Bars
- Creamy Potato Salad
- Banana Bread