Chocolate Chip Brownie Cake
Ingredients: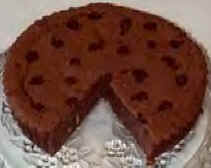 1/2 cup butter
3 1/2 cups semi-sweet chocolate chips
1 1/2 cups flour
1 tsp. baking soda
1 1/2 cups sugar
1 Tbs. vanilla
1/4 cup hot water
4 eggs

Directions:

Melt butter and 2 cups chocolate chips together.

In a small bowl mix flour and baking soda together.

Put melted chocolate mixture in a large bowl. Add sugar and beat for about 5 minutes until smooth. With mixer on add vanilla, and gradually add water. Add eggs one at a time and beat after each addition.

With mixer on low add flour mixture until blended. Fold in remaining 1 1/2 cups semi-sweet chocolate chips.

Pour into a greased 10 inch round pan. Bake at 325 degrees F. for 35 to 45 minutes. Cool. Store in refrigerator.