Tuna Caesar Salad
Makes 2 servings
Ingredients: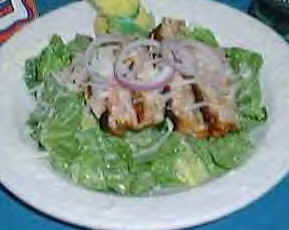 1 pound fresh tuna
1/4 cup Sweet Red Chili Sauce
1 bottle seafood sauce or tartar sauce
1 Head Romaine Lettuce
1 Anchovy
2 Garlic Cloves, Minced
1/2 tsp. Dijon Mustard
1 Tsp. Worcestershire Sauce
1/4 Cup Wine Vinegar
3/4 Cup Olive Oil
1/4 Cup Parmesan Cheese, Grated

Directions:
Coat tuna steak with red chili sauce. Grill on high heat for seven minutes each side or until medium.

Remove tuna from grill, set aside and let it cool.

Meanwhile, wash and dry lettuce. Cut or shred into bite-size pieces, place in your salad bowl.

Crush anchovy into a medium size bowl. Blend in garlic, mustard, Tabasco, Worcestershire and vinegar. Mix well. Stir in 1/3 of your parmesan cheese. Whisk in oil. Add another 1/3 of your parmesan to the lettuce in your salad bowl.

Break apart tuna into bite size pieces and add to bowl with dressing. Toss to mix well.

Whisk in balance of the cheese into the dressing. Pour dressing over the lettuce and serve.