Turkey Meatloaf
1 Tbs. butter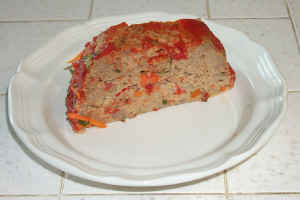 2 Tbs. olive oil
1 small carrot, peeled and finely chopped
1 small onion, finely chopped
1 lb extra lean ground white meat turkey
1 tsp. each of salt and pepper
1 egg
1 Tbs. fresh parsley
1 celery stalk, finely chopped
2 cups rolled oats
1 Cup spaghetti sauce

Preheat oven to 375 degrees F.

Heat butter and olive oil in skillet.

Add chopped carrots, onion and celery and sauté until golden.

In a large bowl mix turkey, spaghetti sauce and parsley. Add the sautéed vegetables and spaghetti sauce and mix thoroughly. Gradually add in the rolled oats until desired consistency.

Bake in 375 degree oven for 30 minutes then add additional salsa on top and continue baking for an additional 15-20 minutes.