Fresh Fruit Cheesecake
Serves 6
1 1/2 Cups Graham cracker crumbs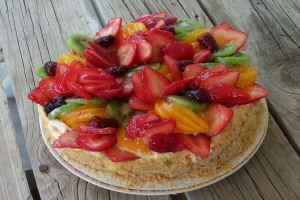 1/4 Cup Sugar
1/3 Cup Margarine; or butter; melted
16 oz Softened cream cheese
14 oz Eagle sweetened condensed milk
3 Eggs
1/4 Cup lemon juice, (use real lemons)
8 oz Sour cream at room temp

Topping:
1 cup strawberries, fresh
1 kiwi
15 oz can peach halves in heavy syrup
1/4 cup berries (raspberry, blackberry, boysenberry, etc..)

Apricot glaze:
10 oz Apricot preserves

Preheat oven to 300 degrees.

Combine crumbs, sugar, and margarine. Press firmly on bottom of 9-inch spring form pan.

In large mixer bowl, beat cheese until fluffy. Gradually beat in sweetened condensed milk until smooth. Add eggs and Lemon juice, mix well.

Pour into prepared pan.

Bake for 50-55 minutes or until center is set; top with sour cream. Bake 5 minutes longer. Cool and Chill.

On a clean towel lay about 4 peach halves and berries to drain. Remove skin from Kiwi by peeling with a knife. Cut kiwi into about 5-6 pieces (it will be circular in shape and you will be able to see the seeds.) Cut Peach halves into about 6 pieces lengthwise.

Cut stems off strawberries and cut them into 3-4 pieces.

Arrange peaches first. Use 3 sliced peaches in each area of the cake. You should have about 6-7 areas of 3 sliced peaches each. next lay a piece of kiwi next to each set of 3 peach area. Finally arrange strawberries on the open areas trying not to cover kiwis and peaches.
Top with a few berries.

Pour Apricot preserves into a small saucepan adding 1/3 cup water and heat over medium until melted. Using a pastry brush, brush fresh fruit with the glaze.