Mini Apple Cinnamon Tarts
Tart Shells: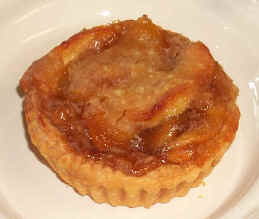 2 cups flour
1 tsp. sugar
Pinch of salt
3/4 cups cold butter or margarine, cut into pieces
1/3 cup ice water

Apple Filling
3 large apples
2 Tbs. brown sugar
4 Tbs. skim milk or water
Cinnamon to taste

For tart shells, combine flour, sugar and salt in large bowl. Using pastry blender, cut butter into dry ingredients until mixture resembles crumbly corn meal.

Add water, 1 tablespoon at a time, kneading mixture until dough forms a ball. Wrap dough in plastic wrap, flatten and refrigerate at least 30 minutes.

Preheat oven to 350°F.

Grease mini tart pans (about 2-3 inches.)

Roll out dough on lightly floured surface to 1/8-inch thickness. Cut out 3-inch circles using jagged cookie cutter and press into prepared mini tart pans.

Meanwhile, Peel and slice apples. Arrange them in overlapping slices.

Mix brown sugar, milk and cinnamon. Drizzle over the apples and bake for 20 minutes. Serve warm.