Apricot Strudel
8 servings

1 2/3 cups flour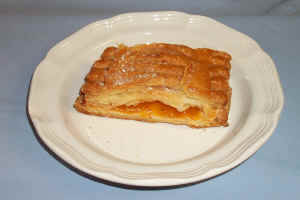 1/4 tsp. salt
1 Tbs. vinegar
2 Tbs. sunflower oil
1 egg, slightly beaten
1/4 cup warm water
1/4 cup granulated sugar
1/2 cup brown sugar, packed
2 Tbs. cornstarch
1 1/2 Tbs. ground cinnamon
5 1/2 cups apricots, sliced
1 1/2 Tbs. lemon juice
1/2 cup, plus 1 tsp. butter (divided)
1/8 cup sliced almonds or sanding sugar

Preheat oven to 400 degrees F.

In medium bowl, mix flour, salt, vinegar, oil and egg. Add water; mix. Knead until dough is smooth. Place in a bowl. Cover and set aside for one hour.

Mix sugars, cornstarch and cinnamon. On a floured pastry cloth, roll dough to a 12x8 inch rectangle. Spread apricots over dough; sprinkle lemon juice, and sugar mixture. Dot with 2 tablespoons of butter.

Using pastry cloth to lift pastry, roll the dough like a jelly roll. Seal the edges. Place on a greased cookie sheet.

Bake at 400 degrees F for 35 minutes. Mix honey and 1 teas butter, spread on crust. Sprinkle sliced almonds or sanding sugar over top. Bake 10 minutes longer.