Chinese Noodle Salad

1 lb. Chinese-style noodles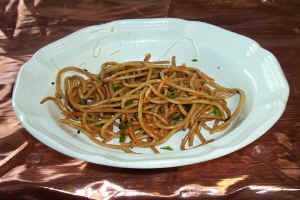 2 Tbs. dark sesame oil

DRESSING:
6 Tbs. peanut butter
1/4 cup water
3 Tbs. light soy sauce
6 Tbs. dark soy sauce
6 Tbs. tahini (sesame paste)
1/2 cup dark sesame oil
2 Tbs. sherry
4 tsp. rice wine vinegar
1/4 cup honey
4 medium cloves garlic, minced
2 tsp. minced fresh ginger
1 Tbs. hot pepper oil,
1/2 cup hot water

Cook noodles in large pot of boiling unsalted water over medium heat
until barely tender and still firm.

Drain immediately and rinse with cold water until cold. Drain well
and toss noodles with 2 tablespoons of dark sesame oil so they don't stick together.

Dressing:
combine all ingredients except hot water in a blender until smooth.
Thin with hot water to consistency of whipping cream.

Just before serving, toss noodles with sauce. Serve.