Springtime Raspberry Cheesecake
Serves 12
Crust: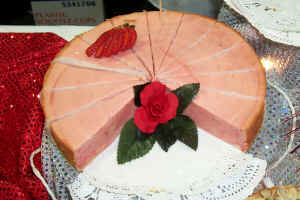 1 Cup Flour
1 Cup Brown sugar
1 Cup Margarine
1 Cup Walnuts, finely chopped

Cheesecake:
1 lb. cottage cheese, cream style
1 lb. cream cheese, softened
1 1/2 cups sugar
4 eggs, slightly beaten
1/3 cup cornstarch
1/2 cup butter or margarine, melted
1 pint sour cream
1 Tbs. Grand Marnier or other orange liqueur
1 tsp. almond extract

Filling:
1/4 cup raspberry jam, seedless
1/4 tsp. raspberry oil or extract
1 tsp. cornstarch

Crust:
Heat oven to 325 degrees.

In large bowl, combine flour and brown sugar and mix well. Using fork or pastry blender, cut in margarine until coarse crumbs form. Stir in walnuts. Lightly press mixture in un-greased 10 inch baking pan.

Bake at 325 degrees for 10 to 15 minutes or until light golden brown. Let Cool.

Cheesecake:
Puree cottage cheese in blender until smooth and pour into large mixing bowl. Add cream cheese and beat with an electric mixer on high speed until blended and creamy. Add sugar.
On low speed, add cornstarch, Grand Marnier, eggs and almond extract. Beat until blended. Add melted butter and sour
cream; blend at low speed.

Filling:
Measure out 3/4 cup cheesecake batter. Add raspberry preserves and flavoring. Mix well, then add cornstarch and mix again.

Assembly:
Pour some cheesecake into crust, spoon on half the raspberry mixture. Add remaining cheesecake mixture, then the remaining raspberry mixture. Cut through the batter with a knife or rubber spatula to create a marbling effect.

Bake at 325 degrees for 1 hour and 10 minutes, or until firm around edges.

Turn off oven; leave cake in oven for 2 hours. Remove and cool completely on wire rack. Chill, remove sides of pan.
Top with fresh raspberries and serve.