Fudge Bundt Cake
serves 12
1 3/4 Cups White Sugar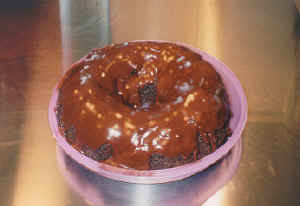 1 Cup Brown Sugar
1 Cup Grapeseed Oil
2 Large Eggs
2 tsp. Vanilla Extract
3/4 Cup Cocoa powder
3 Cups Unbleached Flour
1/2 tsp. Salt
1 1/2 tsp. Baking Soda
2 tsp. Baking Powder
2 Cups Brewed, just-warm Coffee

Topping:
3 Tbs. butter
2 (1 ounce) squares unsweetened chocolate, chopped
1 1/2 cups powdered sugar
2 Tbs. water
1 tsp. vanilla extract

Preheat oven to 350 degrees F.

Grease a large Bundt cake pan.

Combine white and brown sugar, oil, eggs and vanilla. Beat with mixer or a large hand whisk for one minute until smooth. Add cocoa, flour, salt, baking soda and baking powder. Stir briefly then slowly add in coffee, stirring at the same time, to make a smooth, somewhat loose batter.

Spoon batter into pan. Bake for 65-72 minutes. Top should spring back when touched.

Let cake cool in pan for 30 minutes and then invert on wire rack.

Chocolate Glaze Topping:
In a small saucepan, melt 3 tablespoons butter with 2 ounces chopped chocolate over low heat. Stir constantly until smooth. Remove from heat. Stir in powdered sugar alternately with water until of desired consistency. Stir in 1 teaspoon vanilla extract.
Place cake on a plate and drizzle chocolate glaze over it with a spoon.