Noodle Cucumber Salad
serves 4-5
5 to 6 oz. vermicelli noodles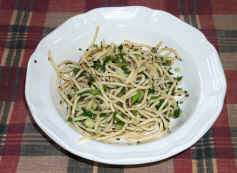 6 Tbs. rice or cider vinegar
4 tsp. sugar
2 tsp. tamari
1 to 2 Tbs. sesame seeds
1 medium size cucumber, finely diced
1/2 bunch of chives, Snip into 1/2-inch pieces
1 Tbs. olive oil

Cook noodles in boiling water until just tender. Rinse in cold water, drain and transfer to medium bowl.

Add 6 Tbsp. rice or cider vinegar, tamari, sugar, cucumber, chives and olive oil. Toss, cover and chill.

To serve, divide noodles into 4 or 5 serving bowls. Lightly sprinkle with sesame seeds.