Green Pea Salad
serves 6-8
This recipe was submitted from Ron Lepretre, one of the daily recipe subscribers. He says it's "A favorite at pot luck dinners/picnics."

1 pkg. (16 oz.) frozen peas, thawed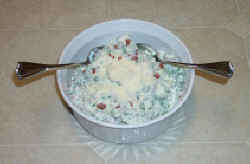 1/2 cup mayonnaise
1/2 cup sour cream
About 8 strips of bacon, fried crisp and then crumbled
1 bunch (1-1 1/2 cups) of green onions, sliced
1/4 cup parmesan cheese

In a colander, rinse frozen peas in cold water until thawed. Drain, and transfer to a large salad bowl.

Add bacon and sliced onions.

In a small bowl mix together mayonnaise, sour cream and 1/2 of the parmesan cheese. (Save a small amount of the mayo/sour cream mixture for the top of the salad.)

Stir into salad mixture. Sprinkle the rest of the parmesan cheese over the top. Serve.