Bundt Pan Babka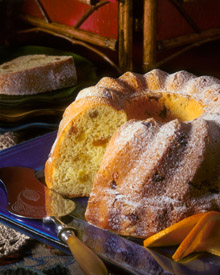 Makes 1 cake
Dough
2 1/4 cups all-purpose flour
1/3 cup sugar
1 envelope (1/4 ounce or 2 1/4 tsp) Fleischmann's RapidRise Yeast
1/2 teaspoon salt
1/2 cup milk
1/4 cup butter or margarine
3 large eggs
1/3 cup mixed candied fruits
1/3 cup raisins
Rum Syrup
1/2 cup sugar
1/3 cup water
2 teaspoons rum extract
Powdered Sugar
In a large bowl, combine 3/4 cup flour, sugar, undissolved yeast, and salt. Heat milk and butter until very warm (120 to 130 F). Gradually add to dry ingredients. Beat 2 minutes at medium speed of electric mixer, scraping bowl occasionally. Add eggs and 1/2 cup flour. Beat 2 minutes at high speed. Stir in remaining flour to make a stiff batter. Cover, let rest 10 minutes.
Stir batter down; stir in candied fruits and raisins. Turn into greased and floured 10-cup Bundt pan. Cover; let rise in warm, draft-free place until doubled in size, about 1 1/2 hours.
Bake at 350 F for 30 to 35 minutes or until done. Before removing from pan, immediately prick surface with fork. Pour Rum Syrup over cake. Let stand 10 minutes to allow syrup to be absorbed. Remove from pan; cool on wire rack. Sift powdered sugar over top.
Rum Syrup
In a saucepan, combine sugar, water and rum extract. Bring to a boil, stirring constantly.
Nutrition Information Nutrition Information Per Serving, 2.8 ounces (1 / 12 of recipe):
Calories 220, Total fat 6g, Saturated fat 3g, Cholesterol 65 mg, Sodium 160 mg, Carbohydrates 38g, Dietary fiber 1g, Sugars 19g, Protein 5 g
Source: Fleischmann's Yeast, a division of Burns Philp Food, Inc.