Easter Basket Cupcakes
My mother made these cupcakes for me when I was growing up, and they are just as much fun to make now as they were then. Children can help peel the carrots, measure dry ingredients into a large bowl, and stir together the wet and dry ingredients. Place bowls of icing, coconut, and jelly beans on the table and demonstrate how to construct the first basket. Let the children assemble the rest. They can choose red licorice whips for the basket handle, or try one of the new fruit-flavored whips that come in colors as varied as yellow, orange, and pink.
Yield: 24 cupcakes
For the cupcakes:

3 cups all-purpose flour
2 teaspoons baking powder
1 teaspoon baking soda
1 teaspoon salt
2 teaspoons cinnamon
1/2 teaspoon ground ginger
1/4 teaspoon ground nutmeg
1 cup vegetable oil
3/4 cup buttermilk
4 large eggs
1 cup granulated sugar
1 cup firmly packed light brown sugar
1 tablespoon pure vanilla extract
1 pound carrots, peeled, grated (3 1/2 cups packed)
2 cups chopped walnuts
1 cup sweetened, shredded coconut
1 cup drained canned crushed pineapple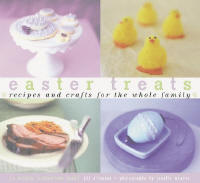 For the icing:
1/2 cup unsalted butter, softened
1 8-ounce package cream cheese, softened
1 teaspoon grated orange zest
1 teaspoon pure vanilla extract
4 cups (1 pound) confectioners' sugar, sifted
For decorating:
3 cups coconut
Liquid or paste food coloring
72 jelly beans, in assorted colors
24 red licorice or other fruit-flavored whips
For the Cupcakes:
Preheat the oven to 350 degrees F. Line 24 standard muffin cups with paper liners. Sift together the flour, baking powder, baking soda, salt, cinnamon, ginger, and nutmeg into a large bowl. In a separate bowl, whisk together the oil, buttermilk, eggs, granulated and brown sugars, and vanilla until smooth. Stir in the grated carrots, walnuts, coconut and pineapple.
Using a wooden spoon, stir the dry ingredients into the wet ingredients just until combined. Spoon into the lined muffin cups, filling each three-quarters full. Bake until a toothpick inserted into the center of a cupcake comes out clean, about 25 minutes. Let cool completely on a wire rack.
For the Icing:
In a bowl beat together the butter and cream cheese with an electric mixer set at medium speed until light and fluffy. Grate in the orange zest and vanilla. Beat in the confectioners' sugar, 1 cup at a time. Continue beating until light and creamy. You should have about 3 cups.
To color coconut:
Dissolve a few drops of liquid or paste food coloring in 1 teaspoon water. Put coconut in a lock-top plastic bag and dribble dissolved food coloring over it. Seal bag and massage food coloring into the coconut until it is evenly distributed and no white streaks remain.
To assemble:
Spread the cooled cupcakes generously with the icing. Press the coconut onto the icing to resemble Easter basket grass. Press 3 jelly beans into the coconut grass on each cupcake. To create the basket handle, insert one end of a licorice whip into one side of a cupcake. (If you experience difficulty inserting the licorice, pierce the cupcake with the tip of a paring knife to ease the way.) Insert the other end into the opposite side of the cupcake, to form the semicircular handle.
To serve:
Serve the cupcakes immediately, or cover lightly with plastic wrap and chill for up to 12 hours before serving.
Nutrition facts per serving (1 cupcake): Calories: 508 Fat: 30g Carbohydrates: 55g Cholesterol: 56mg Sodium: 239mg Protein: 7g Fiber: 2g % Cal. from Fat: 53% % Cal. from Carbs: 43%
Source: Easter Treats by Jill O'Connor
Recipes and crafts for the whole family
Buy the Easter Treats book in the US - UK
More Recipes from Easter Treats:
- Easter Bonnet Shortbread Cookies
- Grilled Butterflied Leg of Lamb with Garlic and Rosemary
- Hot Cross Buns with Dried Sour Cherries and Pistachios