Lacy Valentine Coffeecake Heart
Yield: 2 coffeecakes, 24 servings
1/2 cup warm water (100 to 110 F)
2 envelopes (1/2 ounce or 4 1/2 tsp) Fleischmann's Active Dry Yeast
1/2 cup warm milk (100 to 110 F)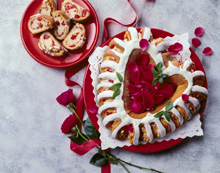 3/4 cup sugar
1/4 cup plus 1 tablespoon butter or margarine, softened
2 eggs
1 1/2 teaspoons salt
4 1/2 to 5 cups all-purpose flour
1/2 cup chopped maraschino cherries, drained
1/2 cup chopped slivered almonds, toasted

Almond Icing:
1 1/2 cups powdered sugar, sifted
1/2 teaspoon almond extract
2 to 3 tablespoons milk
Place warm water in large warm bowl. Sprinkle in yeast; stir until dissolved. Add warm milk, 1/2 cup sugar, 1/4 cup butter, eggs, salt, and 1 1/2 cups flour; blend well. Stir in enough remaining flour to make soft dough. Knead on lightly floured surface until smooth and elastic, about 4 to 6 minutes. Place in greased bowl, turning to grease top. Cover; let rise in warm, draft-free place until doubled in size, about 1 hour.
Pat maraschino cherries between paper towels to remove excess moisture. In medium bowl, combine maraschino cherries, almonds, and 1/4 cup sugar; set aside.
Punch dough down. Remove dough to lightly floured surface; divide in half. Roll one half to a 24 x 7-inch oval. Melt remaining 1 tablespoon butter; brush half over dough to within 1/2 inch of edges. Sprinkle half of cherry mixture over dough. Beginning at long end, roll up tightly as for jelly roll. Pinch seam to seal; gently roll back and forth to stretch to 26-inch rope. Place, seam side down, on greased baking sheet. Form into ring; pinch ends together to seal. Shape into heart.
With sharp knife, cut slits, starting at outside edge of heart, two-thirds of the way through dough at 3/4-inch intervals. Turn each section on its side to show filling. Repeat with remaining dough, butter, and cherry mixture. Cover; let rise in warm, draft-free place until doubled in size, about 1 hour.
Bake at 350 F for 20 to 25 minutes or until done, switching positions of sheets halfway through baking time for even browning. Remove from sheets; let cool on wire racks.
In small bowl, combine 1 1/2 cups powdered sugar, sifted; 1/2 teaspoon almond extract; and 2 to 3 tablespoons milk. Stir until smooth. Frost hearts with Almond Icing.
Nutrition information per serving (1/24 of recipe): calories 205, total fat 5g, saturated fat 2g, cholesterol 25mg, sodium 181mg, total carbohydrate 37g, dietary fiber 1g, protein 4g.
Source: Fleischmann's Yeast, a division of Burns Philp Food, Inc.
More Valentine's Cakes & Recipes