Tempting Pumpkin Pie
You, too, can make homemade pumpkin pie! Continue the holiday tradition with this easy recipe.
Yield: 1 pie, 8 servings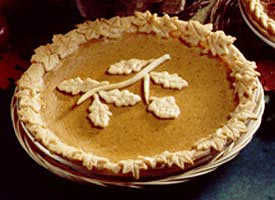 Best Flaky Pastry:
1 cup Gold Medal all-purpose flour
1/4 teaspoon salt
1/3 cup plus 1 tablespoon shortening or 1/3 cup lard
2 to 3 tablespoons cold water
Filling:
2 eggs
1/2 cup sugar
1 teaspoon ground cinnamon
1/2 teaspoon salt
1/2 teaspoon ground ginger
1/8 teaspoon ground cloves
1 can (15 ounces) pumpkin (not pumpkin pie mix) - make your own
1 can (12 ounces) evaporated milk
Mix flour and salt in medium bowl. Cut in shortening, using pastry blender or crisscrossing 2 knives, until particles are size of small peas. Sprinkle with cold water, 1 tablespoon at a time, tossing with fork until all flour is moistened and pastry almost leaves side of bowl (1 to 2 teaspoons more water can be added if necessary).
Gather pastry into a ball. Shape into flattened round on lightly floured surface. Roll pastry, using floured rolling pin, into circle 2 inches larger than upside-down pie plate, 9 x 1-1/4 inches. Fold pastry into fourths; place in pie plate. Unfold and ease into plate, pressing firmly against bottom and side.
Trim overhanging edge of pastry even with plate. Cut scraps of rolled pastry with tiny leaf-shaped cookie cutter. Sprinkle cutouts with sugar; press on pastry edge.
Heat oven to 425 F.
Beat eggs slightly in medium bowl with wire whisk or hand beater. Beat in remaining ingredients.
To prevent spilling, place pastry-lined pie plate on oven rack. Pour filling into pie plate. Bake 15 minutes.
Reduce oven temperature to 350 F. Bake about 45 minutes longer or until knife inserted in center comes out clean. Cool 30 minutes. Refrigerate about 4 hours or until chilled. Immediately refrigerate any remaining pie after serving.
Note:
The cutouts that top the filling are baked on a cookie sheet while the oven is at 425°F. It will take just a few minutes for them to bake golden brown. Let cool. Once pie has baked and cooled, top with baked pastry in the branch of leaves pattern.
Top this pie with "spiced cream clouds" without last-minute fuss! For 8 nice dollops, simply beat 1/2 cup whipping (heavy) cream with 1 tablespoon packed brown sugar and 1/4 teaspoon ground cinnamon in a chilled small bowl with an electric mixer on high speed until stiff. If making ahead, drop the whipped cream by 8 dollops onto waxed paper and freeze uncovered at least 2 hours, then cover tightly and freeze no longer than 2 months. If you plan to add a candy pumpkin when serving, make a depression in each dollop before freezing. Once on the pie, the frozen dollops need to stand only 5 minutes before serving.
Source: Gold Medal Flour, a Reg. TM of General Mills, Inc.
Next:
- Thanksgiving Recipes & Ideas
- Pie Recipes