Gifts in a Jar - Peach Crumb Cake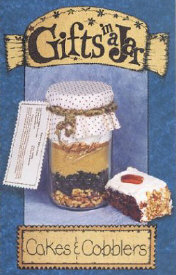 Peach Crumb Cake Mix:
3/4 cup sugar
3/4 cup quick oats
3/4 cup brown sugar
2 cups flour
2 tsp. baking powder
1/2 tsp. salt
Layer the ingredients in the order given into a wide mouth 1-quart canning jar. Pack each layer into place before adding the next ingredient.
Attach a gift tag with the following mixing and baking instructions:
Peach Crumb Cake
1 jar Peach Crumb Cake Mix
3/4 cup butter or margarine
1 (29 oz.) can peach pie filling
Preheat oven to 350 degrees. Empty contents of jar into a mixing bowl, stirring to combine. Melt butter and stir into dry ingredients to form a crumbly mixture. Press half of the crumbs into a greased 9 x 13 inch pan and top with peach pie filling. Sprinkle remaining crumb mixture over filling. Bake for 30 to 35 minutes.
Source: Gifts in a Jar: Cakes & Cobblers from: CQ Products - buy this book
also available: Gifts in a Jar: For the Slow Cooker from: CQ Products - buy this book
Next: more Gift Jar Recipes