Pecan Caramel Cheesecake
Pecan pie or cheesecake? Try a bite of both with this no-bake New York-style cheesecake smothered in caramelized pecans. The inspired combination of creamy cheesecake, gooey caramel, and crunchy pecans is a two-in-one treat, perfect for parties, special dinners or starting a new Thanksgiving tradition. Be generous with the caramel -- and don't be afraid to let it drip down the sides. It just looks more homemade.
Yield: 12 to 16 servings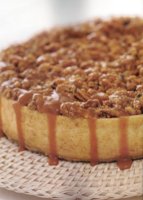 2 boxes (11.1 ounces each) real cheesecake dessert mix, Jell-O No Bake
3/4 cup butter, melted
1/4 cup granulated sugar
2 tablespoons water
2 1/2 cups cold whole milk
1 cup butterscotch caramel sauce, Mrs. Richardson's
1 cup pecans, toasted, chopped
1/2 cup golden brown sugar, packed
Line bottom of 9-inch-diameter springform pan with parchment or wax paper.
Mix 2 packages of crust, melted butter, sugar, and water in large bowl until well blended. Reserve 1 cup of crumb mixture for topping. Press remaining crumb mixture onto bottom of prepared pan (not up sides).
Combine 2 packages of cheesecake filling and cold milk in another large bowl. Beat for 3 minutes, or until smooth and thick. Fold 1/2 cup of caramel sauce into cheesecake mixture. Pour mixture into crust-lined springform pan.
Mix reserved crumb mixture with 1/4 cup of caramel sauce, pecans, and brown sugar. Sprinkle atop cheesecake.
Refrigerate cake at least 5 hours, or until set. Run warm knife around pan sides to loosen cake; remove pan sides. Transfer cake to serving platter and drizzle with remaining 1/4 cup of caramel sauce.
Serve cold.
Source: Semi-Homemade Desserts by Sandra Lee
more recipes from this book:
- Frozen English Toffee Cake
- Cherry Lollipops
- Mini Pumpkin Spice Cakes with Orange Glaze