Cute Egg Chicks
These big-eyed chicks will steal the show at your Easter table or on a buffet! The Taste of Home Test Kitchen staff took a little artistic license with a recipe shared by field editor Tami E. of Dumont, Minnesota…and came up with these clever chicks.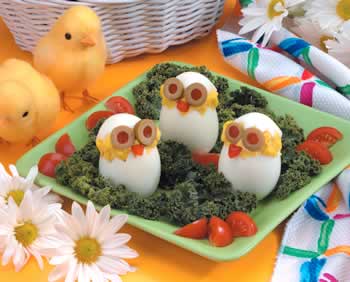 Yield: 1 dozen
12 hard-cooked eggs
1/2 cup mayonnaise
1/2 cup shredded Parmesan cheese
2 teaspoons finely chopped onion
1/2 teaspoon curry powder
1/2 teaspoon prepared mustard
1/8 teaspoon pepper
3 stuffed olives
1 small sweet red pepper
Cut a thin slice from the bottom of each egg so it sits flat. Cut a zigzag pattern a third down from the top of each egg. Carefully remove yolks and place in a small bowl; mash with a fork. Add the mayonnaise, Parmesan cheese, onion, curry, mustard and pepper; stir until well blended. Spoon yolk mixture into the egg white bottoms; replace tops.
Cut olives into slices for eyes. Cut 12 small triangles from red pepper for beaks. Gently press the eyes and beaks into egg yolk filling. Refrigerate until serving.
Source: Taste of Home - subscribe to Taste of Home Magazine
Next: more Easter Recipes & Ideas