Sugar N' Spice Bunnies
Yield: 4 Bunnies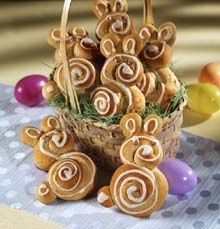 1/2 cup milk
1/4 cup water
3 tablespoons butter or margarine
1 large egg
1/2 teaspoon salt
2 1/2 cups bread flour
1/2 cup chopped dates or raisins
3 tablespoons sugar
1/2 teaspoon ground cinnamon
1/8 teaspoon ground allspice
1/8 teaspoon ground nutmeg
1 1/2 teaspoons Fleischmann's Bread Machine Yeast

Dates or raisins for decoration

Powdered Sugar Glaze:
1/2 cup powdered sugar
1 to 2 tablespoons milk
1/4 teaspoon vanilla extract
Add dough ingredients to bread machine pan in the order suggested by manufacturer. Select dough/manual cycle.
Or, combine ingredients, as usual, beat 2 minutes at medium speed of electric mixer and knead on lightly floured surface until smooth and elastic, about 4 to 6 minutes. Cover; let rest 10 minutes
When cycle is complete, remove dough from machine. Divide dough into 4 equal pieces; roll each to 24-inch rope. Divide each rope into 1 (13-inch), 1 (6-inch), 2 (2-inch), and 1 (1-inch) strips. Coil 13-inch strip to make body; coil 6-inch strip to make head. Attach head to body; pinch to seal. Shape 2 (2-inch) strips into ears and remaining 1-inch strip into tail. Attach to body and head. Place on greased baking sheet. Cover; let rise in warm, draft- free place until doubled in size, about 45 minutes.
Bake at 375 F for 15 to 20 minutes or until done. Remove from sheet; cool on wire rack. Brush with Powdered Sugar Glaze. Insert date pieces for eyes.
Powdered Sugar Glaze: In a small bowl, combine 1/2 cup powdered sugar, sifted; 1 to 2 tablespoons milk, and 1/4 teaspoon vanilla extract. Stir until smooth.
Nutrition Information Per Serving: Serving Size : one bunny
Calories: 570, Total Fat: 12 g, Saturated Fat: 6 g, Cholesterol: 80 mg, Sodium: 420 mg, Carbohydrates: 103 g, Dietary Fiber: 4 g, Protein: 14 g
Source: Fleischmann's Yeast, a division of Burns Philp Food, Inc.
Next: more Easter Recipes & Ideas