I-Love-You Scones
Heart-shaped scones with a touch of baked-in berry preserves. It's a great recipe for kids helping in the kitchen.
Yield: 9 scones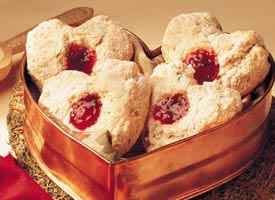 1 egg
1/3 cup milk
1/4 cup applesauce
2 tablespoons butter or margarine, melted
1 teaspoon almond extract
2 cups Gold Medal® all-purpose flour
1/2 cup sliced almonds
1/3 cup granulated sugar
3 teaspoons baking powder
1/2 teaspoon salt

4 1/2 teaspoons strawberry or raspberry preserves
Powdered sugar
Heat oven to 400 F. Grease cookie sheet.
Beat egg slightly in medium bowl. Stir in milk, applesauce, butter and almond extract. Stir in remaining ingredients except preserves and powdered sugar just until moistened.
Drop dough by 1/4 cupfuls about 3 inches apart onto cookie sheet. Pat into heart shapes about 3 inches wide and 1/2 inch high, using fingers dusted with flour. Make shallow well in center of each heart, using back of spoon dipped into flour. Place 1/2 teaspoon of the preserves in each well.
Bake 12 to 15 minutes or until golden brown. Remove from cookie sheet to wire rack. Sprinkle with powdered sugar while warm. Serve warm.
Source: Gold Medal Flour, a Reg. TM of General Mills, Inc.
More Valentine's Cakes & Recipes