The Ultimate Valentine's Day Cookie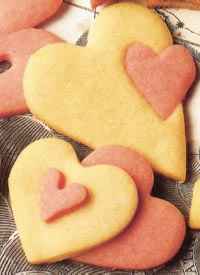 Your sweetheart will be yours forever when you give him or her a batch of these delicious, heart-shaped cookies.
Yield: 4 dozen cookies
1 cup powdered sugar
1 cup butter or margarine, softened
1 tablespoon white vinegar
2 1/4 cups Gold Medal® all-purpose flour
3/4 teaspoon baking soda
1 1/2 teaspoons ground ginger
1/4 teaspoon salt
6 drops red food color
Creamy Decorator's Frosting, if desired (below)
Heat oven to 400 F. Beat powdered sugar, butter and vinegar in large bowl with electric mixer on medium speed, or mix with spoon. Stir in remaining ingredients except food color. Divide dough in half. Mix food color into one half. (If dough is too dry, stir in milk, 1 teaspoon at a time.)
Roll dough 1/8 inch thick on lightly floured cloth-covered surface. Cut into heart shapes with various sizes of cookie cutters. Place smaller hearts on larger hearts of different color dough if desired. Place about 2 inches apart on ungreased cookie sheet.
Bake 5 to 7 minutes or until set but not brown. Cool 1 to 2 minutes; carefully remove from cookie sheet to wire rack. Cool completely, about 30 minutes. If desired, decorate with white and pink Creamy Decorator's Frosting.
Creamy Decorator's Frosting
2 cups powdered sugar
1/2 teaspoon vanilla
2 tablespoons milk or half-and-half
Stir together all ingredients until smooth and spreadable. Tint with food color if desired.
Source: Gold Medal Flour, a Reg. TM of General Mills, Inc.
More Valentine's Cakes & Recipes