Mardi Gras: King Cake
New Orleans bakeries produce thousands of King cakes using Danish dough that is braided and formed into a ring and then topped with icing in the following Mardi Gras colors:
GREEN Representing Faith, PURPLE Representing Justice, and GOLD Representing Power.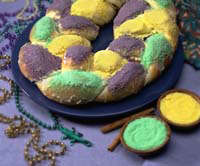 Yields 1 King cake
4 3/4 cups all-purpose flour
1 cup sugar
1 1/2 teaspoons salt
2 packages Fleischmann's RapidRise Yeast
3/4 cup milk
1/2 cup water
1/2 cup butter or margarine
2 large eggs
1/4 cup melted butter or margarine
1 tablespoon ground cinnamon
Powdered sugar glaze:
2 cups powdered sugar
2 to 3 tablespoons milk
Colored sugars:
3 times a 1/2 cup sugar
green, yellow and purple food coloring
In large bowl, combine 1 1/2 cups flour, 1/4 cup sugar, salt and undissolved yeast. Heat milk, water and butter until very warm (120 to 130 F). Add to dry ingredients and beat for 2 minutes at medium speed of electric mixer. Add eggs and 1/2 cup flour. Beat on high speed for 2 minutes. Stir in remaining flour to make a stiff batter. Cover tightly with plastic wrap; refrigerate 2 to 24 hours.
Punch dough down. Remove dough to lightly floured surface. Divide into 3 equal pieces. Roll each to 28 x 4-inch rectangle. Brush melted butter over each rectangle; sprinkle evenly with remaining 3/4 cup sugar and ground cinnamon. Beginning at long end, roll each up tightly as for jellyroll; pinch seams to seal to form ropes. Braid ropes; form braid into oval. Pinch ends together to seal. Place on greased baking sheet. Cover; let rise in warm, draft-free place until doubled in size, about 1 hour.
Bake at 375 F for 25 to 30 minutes or until done. Remove from baking sheet; let cool on wire rack. Brush with powdered sugar glaze; sprinkle with colored sugars.
Powdered Sugar Glaze:
In medium bowl, combine 2 cups powdered sugar, sifted; and 2 to 3 tablespoons milk. Stir until smooth.
Colored Sugars:
Combine 1/2 cup sugar and 8 drops of green food coloring in a covered jar or resealable plastic bag. Shake vigorously to evenly mix color with sugar. Repeat procedure with 1/2 cup sugar and yellow food coloring. Repeat procedure with 1/2 cup sugar and purple food coloring.
Tip: For purple, combine 8 drops blue and 16 drops red food coloring. For green, combine blue and yellow.
Recipe source:
Fleischmann's Yeast, a division of Burns Philp Food, Inc.