Nana's Unbaked Cookies
2 cups sugar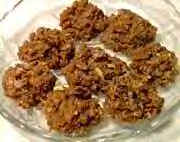 1/4 pound margarine
1/2 cup milk
3 Tbs. cocoa
1 tsp. vanilla
1/2 cup peanut butter (creamy or chunky)
3 cups quick cooking oats

Combine sugar, margarine, milk and cocoa in a 4 quart sauce pan. Cook at a full rolling boil for approximately 1 minute.

Remove from heat, add vanilla and peanut butter. Stir well. Add oatmeal to mixture, combine thoroughly.

Drop by spoonfuls onto waxed paper.