Pumpkin Spice Cake
1/2 cup butter. margarine or shortening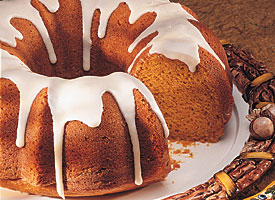 1 1/4 cups sugar
2 eggs, beaten
2 1/4 cups flour
1 1/2 tsp. baking powder
1/2 tsp. baking soda
1 tsp. salt
2 tsp. cinnamon
1/2 tsp. ginger
1/2 tsp. nutmeg
1 cup pumpkin
3/4 cup milk
powdered sugar

In a large bowl cream the butter. Gradually add sugar and cream till light and fluffy. Blend in beaten eggs. Sift together the dry ingredients. Combine pumpkin and milk. Add dry ingredients alternately with pumpkin mixture.
Pour into a greased bundt pan and bake at 350 for about 30 minutes.
Sift powdered sugar over the top after cooling for at least 1 hour.