Raspberry Creme Brulee
Yield: 6 servings
6 Tbs. raspberry jam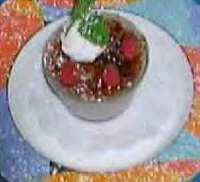 1 basket fresh raspberries
6 large egg yolks
6 Tbs. sugar
1 vanilla bean, split lengthwise
1 1/2 cups whipping cream
12 tsp. brown sugar

Preheat oven to 325 F.

Drop 1 tablespoon of jam over bottom of 6 custard cups. In each dish press about 7 berries into the jam. Reserve remaining raspberries for garnish.

Whisk yolks and 6 tablespoons sugar in medium bowl to blend. Scrape in seeds from vanilla bean. Gradually whisk in cream. Divide mixture among dishes. Arrange dishes in a large baking pan. Pour enough hot water into pan to come halfway up sides of dishes.

Bake custards until set in center, about 40 minutes. Place pan on work surface. Cool custards in water 30 minutes. Remove from water; chill overnight.

Preheat broiler. Sieve 2 teaspoons brown sugar on top of each custard. Place dishes on small baking sheet. Broil until sugar just starts to caramelize, rotating sheet for even browning, about 2 minutes. Chill until topping hardens, about 2 hours. Garnish with reserved berries.