Apple Crisp
4 large apples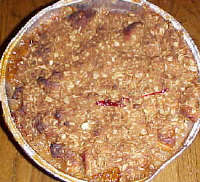 1/2 cup brown sugar
1 cup flour
3/4 cup white sugar
1 tsp. cinnamon
1/4 tsp. salt
2 Tbs. melted butter
1 egg
1/2 cup water
Preheat the oven to 375 degrees.

Then, peel, core and slice the apples. Put the apples in a bowl and mix in 1/2 cup brown sugar.
In a separate bowl, using a fork, mix together 1 cup flour, 3/4 cup sugar, 1 teaspoon cinnamon, and 1/4 teaspoon salt.

In another bowl beat together 1 egg, 2 tablespoons melted butter and 1/2 cup water. Add them to the dry ingredients. You've now made the topping.

Put the apples in baking dish and pour the topping over them.
Bake in the oven for 30 - 40 minutes. When it's done the apples should be soft and the topping golden and crisp.

Remove from oven and let cool.