German Potato Salad
Serves six
8 medium potatoes with skins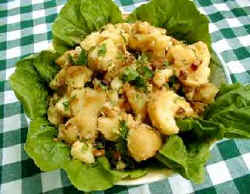 4 Tbs. olive oil
salt and pepper, to taste
3 thick slices smoked bacon
1 large chopped onion
5 Tbs. water
5 Tbs. balsamic vinegar
1 Tbs. sugar
chopped parsley, for garnish

In a large saucepan, boil 8 medium potatoes with skins on high heat.

Remove from heat and cut into 1/2 inch slices and toss with olive oil, salt and pepper in a large bowl.

Saute smoked bacon and the chopped onion in large pan. Add water, balsamic vinegar, and sugar.

Simmer for 5 minutes and toss with potatoes.

Season with salt and pepper and garnish with chopped parsley. Serve and enjoy.