Lemon Sour Cream Pound Cake
Servings: 8

1 cup sweet butter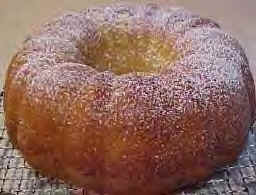 3 cups sugar, divided in half
Juice of 1 or 2 lemons
6 eggs, separated
1-1/2 tsp. cream of tartar
1-1/2 tsp. baking powder
4 cups sifted all-purpose flour
1 cup sour cream
1 tsp. baking soda

Preheat oven to 300 degrees. Grease and flour a bundt cake pan.

Beat egg whites until still with peaks, add 1 teaspoon of the cream of tartar, blending well, then gradually add 1-1/2 cups of the sugar (1 Tablespoon at a time). Set aside.

Mix the sour cream with the soda and set aside.

Cream the butter, adding 1-1/2 cups of the sugar gradually, until light and fluffy. Beat the egg yolks into the mixture, one at a time, beating well after each addition. Add the lemon juice and mix well. Beat in the flour and baking powder, alternating with the sour cream mixture. Beat until well-blended.

Using a large spoon, gently blend in the beaten egg white mixture into the butter-sugar-flour mixture, stirring thoroughly, but carefully. Stir in the grated lemon rind.

Pour the batter evenly into the prepared pan. Place on the center rack of your oven and bake at 300 degrees until a straw inserted into the cake comes out clean, for about an hour and a half.

Remove the cake from the oven and let it rest for ten minutes on a rack, remaining in the pan. Invert the pan and remove the cake from the pan onto the rack and continue to cool. May be dusted lightly with powdered sugar, if desired, no frosting is needed or required.