Maple Donuts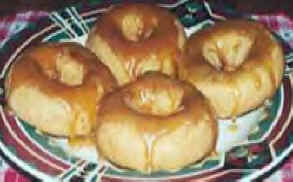 Yield: 1 - 2 dozen
2 envelopes (1/2 ounce or 4 1/2 tsp) active dry yeast
1/4 cup warm water (105-115*)
1 1/2 cups lukewarm milk (scaled then cooled)
1/2 cup sugar
1 tsp. salt
1 tsp. ground nutmeg
1/4 tsp. ground cinnamon (optional)
2 eggs
1/3 cup shortening
5 cups all-purpose or unbleached flour
vegetable oil
Maple glaze (recipe below)

Dissolve yeast in warm water in large mixer bowl.

Add milk, 1/2 cup sugar, salt, nutmeg, cinnamon, eggs, shortening and two cups of the flour. Beat on low speed, scraping the bowl constantly, 30 seconds.

Beat on medium speed, scraping occasionally, after 2 minutes stir in remaining flour; continue stirring until smooth, scraping sides of bowl. Cover; let rise in warm place until doubled, 50-60 min.

Turn dough onto well floured cloth covered board; roll around lightly to coat with flour. Roll gently to 1/2" thick with floured rolling pin. Cut into 2 1/2" donuts with floured donut cutter. Cover; let rise on board till double, about 20 min.

Heat oil (3-4") in deep-fryer or kettle to 350 degrees F. Slide doughnuts into hot oil with wide spatulas. Turn doughnuts as they rise to surface. Fry until golden brown, 1 to 1-1/2 minutes each side.

Carefully remove from oil. Drain on paper towels. While warm, roll doughnuts in sugar or spread with Maple glaze.

Maple Glaze:
1 1/4 cups confectioners' sugar
1 tsp. pure vanilla extract
1/4 cup pure maple syrup, up to 1/3 cup

In a bowl, combine confectioners' sugar and vanilla. Gradually whisk in enough maple syrup to make a smooth, thick glaze. When the doughnuts are completely cool, set them, fluted-side up, in a wire rack over wax paper. Spoon some glaze over each doughnut, letting it drip down the sides.