Cranberry Button Cookies
Ingredients: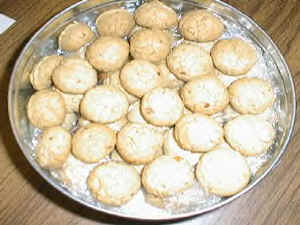 2 cups all-purpose flour
1 tsp. baking soda
1/2 tsp. nutmeg.
1/2 tsp. ginger
3 cups oatmeal, slow cook
1 1/2 cups brown sugar
1 cup vegetable oil
1 1/2 cups fresh cranberries, ground

Directions:

Preheat oven to 375 degrees. In a large bowl, combine flour, baking soda, ginger, nutmeg, and oats. Stir in vegetable oil. Add cranberries and brown sugar, mix well. Chill for one hour.

Roll dough out into 1/4 inch thickness, then cut into 3 inch circles.
Bake on a greased baking sheet for 12 to 15 minutes at 375 degrees F, or until golden. Let cool on rack.