Potato Salad
Serves 4-6
2 large white baking potatoes, peeled and 1-inch cubed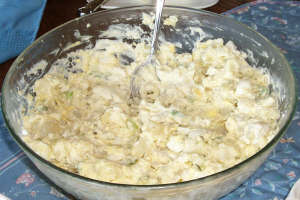 4 eggs
1/2 cup mayonnaise
1 Tbs. yellow mustard
1/4 cup celery, finely minced
1/4 cup sweet pickle relish
1 Tbs. lemon thyme, chopped
1 Tbs. chives, minced
salt and pepper to taste

In a large pot over medium-high heat, cook potatoes in lightly salted water until tender, approximately 12 to 15 minutes.

While potatoes are cooking, boil eggs in a separate pot for 12 to 15 minutes. When potatoes are done, strain and lightly cool. Peel eggs. In a large mixing bowl separate whites from yolk. Using a paring knife, dice egg whites.

In a smaller bowl, mash yolks with a fork and combine with egg whites. Add mayonnaise and mustard, blending well. Add celery, pickle relish, thyme, chives and potatoes, combining all ingredients with a large mixing spoon, making sure to keep potatoes chunky. Season to taste with salt and pepper and serve.