Raspberry Mousse Cake
12 servings

1 cup flour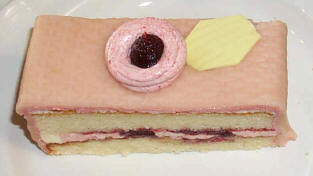 2 Tbs. cornstarch
1 1/4 tsp. baking powder
1/4 tsp. salt
4 egg yolks
1 cup sugar
3 Tbs. water
1 tsp. lemon juice
4 egg whites

Raspberry puree
2 cups frozen lightly sweetened red raspberries, thawed
1/4 cup sugar

whipping Cream
1/4 cup orange juice or orange liqueur
1 envelope unflavored gelatin
3 cups whipping cream
3 Tbs. sugar
3 cups fresh red raspberries (1 cup for topping)

Grease and flour two 9x1-1/2-inch round baking pans. Stir together the
flour, cornstarch, baking powder, and salt.

In a medium bowl beat egg yolks with an electric mixer on high speed for 5 minutes. Beat in 1/2 cup sugar on low speed; beat in water and lemon juice. Wash beaters.

In mixing bowl beat egg whites on medium speed till soft peaks form.
Add another 1/2 cup sugar; beat at high speed till stiff peaks form.
Fold in the yolk mixture. Fold the flour mixture into the egg mixture.
Divide batter between pans.

Bake in a 325 degree F. oven for 25 to 35 minutes. Remove from pans immediately. Cool. Split layers in half horizontally.

Place thawed berries in a blender container. Cover; blend until smooth. Strain to remove seeds. Stir in 1/4 cup sugar. Set aside.

In a heat-safe measure combine orange juice or liqueur and gelatin; let
stand 5 minutes. Place mixture in a saucepan filled with 1 inch of water.

Heat until gelatin dissolves, stirring constantly.

Beat whipping cream and 3 tablespoons sugar to soft peaks. Gradually add gelatin mixture, beating to stiff peaks. Reserve 3 1/2 cups of the whipped cream.

fold all but 1/4 cup of the berry puree into the whipping cream. Mix in 2 cups of the fresh berries.

Place a cake layer on a cake plate. Spread a little berry puree on first layer. top with 1/3 of the raspberry whipping cream.

Top with last layer and repeat with spreading of berry puree and whipping cream.

Garnish with remaining fresh raspberries.