BBQ Chicken Strips
Serves 4
16 chicken tenderloins, skinless and boneless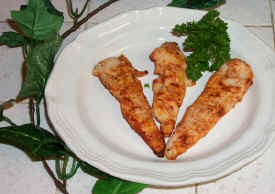 2 tsp. Dijon mustard
1 Tbs. olive oil
1 tsp. garlic powder
1 Tbs. liquid smoke
1/4 cup orange juice
1 bottle mesquite BBQ sauce
1 Tbs. Worcestershire sauce
salt & pepper

BBQ Sauce:
1/3 cup catsup
2 tablespoons vinegar
1 & 1/2 tablespoons molasses
1 & 1/2 tablespoons mustard
2 tablespoons Worcestershire sauce

If chicken is frozen then un-thaw.

Sprinkle strips with salt, pepper, & garlic powder.

In a medium bowl mix the mustard, orange juice, liquid smoke, Worcestershire sauce, & olive oil. Coat chicken strips with marinade & let set for at least 2 hours.

Place chicken on grill & cook until almost done.

Mix all ingredients together for the BBQ sauce in a large bowl.
Brush over chicken and grill until cooked thoroughly.

Featured Recipes:
Chocolate - the food of the Gods
Step-by-step cake decorating
Featured Magazine:
Dessert Professional