Potato Pancakes

3 to 4 large baking potatoes (about 3 pounds), peeled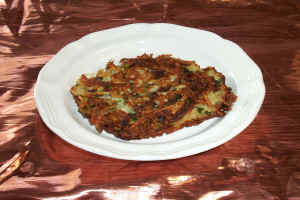 1 small onion, peeled and minced
1 zucchini squash
2 eggs, beaten
1/3 cup all-purpose flour
1 teaspoon salt
1/4 teaspoon baking powder
Dash of freshly ground black pepper
Vegetable oil for frying
1 clove of Garlic, peeled, minced
1 tsp. Paprika

Grate potatoes and zucchini, coarse or fine, into bowl of cold water. Drain and squeeze out liquid. Make sure there is no moisture or water left.

In medium bowl, combine grated potatoes, zucchini, onion, eggs, garlic, flour, salt, baking powder, and pepper. Mix well.

In a large skillet, heat 1/2 inch oil over medium-high heat until very hot. Drop potato mixture by tablespoonfuls into hot oil, a few at a time, flattening each with a spatula. Cook 2 to 3 minutes on each side, until browned and crisp, turning once and reducing heat slightly if necessary.

Remove cooked pancakes to paper towels to drain. Repeat frying with remaining potato mixture, adding more oil, if necessary. Serve hot!