Greek Orzo Salad
Serves 4-5

1 Cup Orzo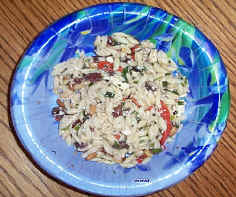 4 Roma Tomatoes seeded and diced
1 Cucumber peeled and diced
3 Green Onions sliced
8 Ounces Feta Cheese crumbled

Salad Dressing:
2 Tsp. Dill
2 Cloves Garlic minced
1/4 Cup Olive Oil
3 Tbs. Lemon Juice
2 Tbs. Red Wine Vinegar
Pepper to taste

In a small bowl place salad dressing ingredients and whisk together.

Cook orzo according to package directions. When finished drain and place orzo in large bowl with tomatoes, cucumber, onions and feta cheese.

Transfer salad dressing into the large bowl with orzo and mix together. Chill in the refrigerator before serving.