Double Chocolate Truffle Cake
Serves 8-10

6 ounces bittersweet chocolate (not unsweetened)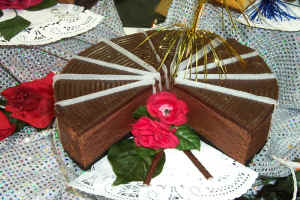 3/4 cup unsalted butter, cubed and softened
2/3 cup sugar
4 eggs, separated
2/3 cup flour
Chocolate Topping (recipe follows)

In top of double boiler, melt chocolate over simmering water until smooth. Or place in microwave bowl; microwave at Medium (50-percent power) for 2 1/2 to 3 1/2 minutes or until melted and smooth. Let cool slightly.

In a bowl, cream softened butter with sugar until fluffy; beat in melted chocolate and egg yolks until smooth.

Sift flour over chocolate mixture and fold in. In another bowl, beat egg whites until stiff peaks form. Fold into chocolate mixture using a whisk until no white streaks remain.

Preheat oven to 350 degrees.

Butter a nine-inch spring-form pan; dust lightly with cocoa powder, shaking off excess. Evenly spread batter in pan; bake for 35 minutes at 350 degrees F or until cake tester inserted in center comes out clean. Place on rack and let cool. Run a knife around outside of cake and arrange on serving plate. Spread top and sides of cake with chocolate topping. Refrigerate.

Chocolate Topping:
1/4 cup unsalted butter, softened
1/3 cup superfine sugar
4 ounces bittersweet chocolate, melted
1/3 cup evaporated milk

In bowl, cream butter with sugar until light and fluffy. Stir in melted chocolate and evaporated milk until smooth. (If too soft, wait five to 10 minutes or until topping is of spreading consistency.) Spread over top and sides of cake.

For a dramatic dessert presentation, cut cake into wedges and serve on large dessert plates dusted with cocoa powder. Garnish with fresh raspberries or sliced strawberries.