Pasta with Pesto Sauce
Serves 6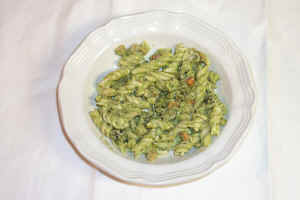 1 lb. dry pasta (Rotini, bowtie, etc.)
1 cup cottage cheese
1/2 cup plain yogurt
1 cup chopped cilantro
1 tsp. Salt
non-stick pan spray
4 cloves garlic, minced
1 small onion, thinly sliced
1 yellow or red sweet bell pepper, thinly sliced

Cook pasta in boiling salted water just until tender.

Combine cottage cheese, yogurt, cilantro and salt in a small food processor. Process 30 seconds or until well blended.

Spray a small skillet and place over medium heat. Add garlic, onions, and pepper and cook until vegetables are slightly tender, about 3 to 4 minutes.

Remove from heat. Drain pasta and toss with sauce and garlic in serving bowl.