Turkey Caravan's
Serves 7-8 people
This is an excellent appetizer for any party or get together. These are little sandwiches with a great taste.

1 lb. Turkey or any deli meat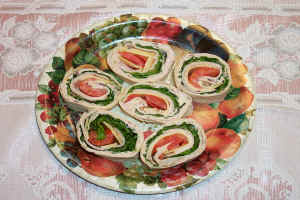 1/2 lb. cheese
1 Cup light/low-fat cream cheese
1 sheet lavish bread
1 Cup tomatoes, sliced
1 Cup Cucumbers, sliced
1 1/2 cups lettuce

Spread Cream cheese on one side of lavish bread. Starting with Turkey and cheese layer the rest of the ingredients. Roll and wrap tightly. Cut the roll into 1 1/2 inch sandwiches. Refrigerate for 1-2 hours.