Cranberry Raisin Couscous Salad
Serves 8
2 tsp. olive oil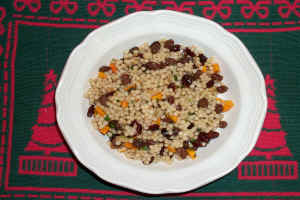 2 tsp. butter
1/2 Cup onion, diced
One 10-oz box instant couscous
2 1/4 Cup vegetable or chicken broth
1/2 Cup dried cranberries
1/4 Cup Raisins
1/2 Cup broken cashews
1/2 Cup cilantro, washed and finely chopped
1/4 Cup green onions, very finely chopped
salt and pepper
1/4 cup carrots, diced, optional

Heat oil and butter in a non-stick saute saucepan, then saute onions with a pinch of salt until onions are translucent.

Add couscous and vegetable broth, bring to a boil, stir once, cover and remove from heat.

Let stand 5 minutes. Fluff couscous and add cranberries, raisins, cashews, cilantro, and green onions and carrots.

Add salt and pepper to taste. Cover for a few minutes, then serve.