Chocolate Raspberry Cheesecake
12 slices
1 1/2 Cups (18) Cream filled Cookies, crushed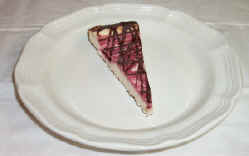 2 Tbs. Margarine, Melted
32 oz Cream Cheese, Softened
1 1/4 Cup Sugar
3 large Eggs
1 Cup Sour Cream
1 tsp. Vanilla
6 oz Semi-sweet Chocolate Chips, melted
1/3 Cup Raspberry Preserves, Strained
1/2 cup semi-sweet chocolate chips, melted
Whipping Cream

Combine crumbs and margarine; press onto bottom of 9-inch spring form pan. In a large bowl, combine 24 ounces of cream cheese and sugar, blending with an electric mixer.

Add eggs, one at a time, beating well after each addition. Blend in sour cream and vanilla. Pour mixture over crust. Combine remaining cream cheese and melted chocolate, blending well with mixer. Add Red Raspberry preserves; mix well. Drop dollops of chocolate cream cheese batter over plain cream cheese batter, do not swirl. Bake at 325 degrees F. for 1 hour and 25 minutes.

Loosen cake from pan and cool before removing.

Melt chocolate pieces. Dip a fork in the melted chocolate and go back and forth in a waving motion over cheesecake to make a line design. Chill.

Garnish with whipping cream and fresh raspberries.