M & M Cookie Gift Jar
2 dozen
3/4 cup packed brown sugar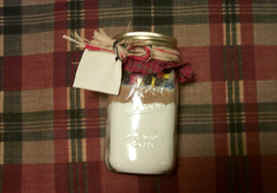 1/4 cup white sugar
1 1/2 cups mini baking M&M's
2 cups all-purpose flour
1/2 teaspoon baking soda
1/4 teaspoon salt

Directions:
Combine the flour with baking soda and salt.

In a clean 1 liter sized canning jar layer the ingredients in the order given, starting with the brown sugar and ending with the flour mixture.

Attach a card with the following directions:
M & M Cookies
Preheat oven to 350 degrees F (175 degrees C). Line one baking sheet with parchment paper.
Empty the contents of the jar into a large bowl and mix until all the ingredients are well combined.
Using your hands work in 3/4 cup softened butter or margarine.
Beat 1 egg with 1 teaspoon vanilla extract. Work this into the flour mixture until well combined.
Shape dough into 1 inch sized balls and place 2 inches apart on the prepared baking sheet. Slightly flatten the balls with the palm of your hand. Bake at 350 degrees F for 10 to 14 minutes or until the edges are lightly browned. Remove cookies to a rack to cool. Makes about 2 dozen cookies.
The M&M's Milk Chocolate Candies everyone knows and loves now in 21 brilliant colors! Use them to make your own colorful blend for gifts, theme parties, school colors, and all special occasions. Choose your colors!