Italian Bruschetta
serves 6-8 pieces
These great appetizers are very fast and simple to make.

2 tomatoes, chopped in small chunks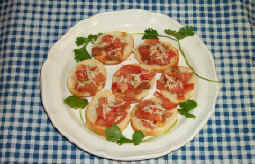 2 garlic cloves, chopped fine
3-4 basil leaves, fresh, chopped fine
2 Tbs. olive oil
1 tsp. red wine vinegar
1/8 tsp. ground pepper
1/8 cup mozzarella cheese
dash of salt
French baguette bread, sliced into 1/2 inch thick about 8 pieces

Using a sharp knife, cut the tomatoes into small chunks and place in a small bowl. Either using a garlic press or a knife have the garlic cloves be finely chopped. Also, slice the basil. Add the garlic and basil to the tomatoes.

Add the olive oil, red wine vinegar, pepper, and salt to the tomatoes and mix. Add more spices if needed.

Toast the sliced baguette bread either in the oven or in a small toaster oven. You can also make this without toasting the bread.
Top the baguette slices with the mixture and add a pinch of cheese.