Ginger Chicken Salad
serves 4
Prep Time 15 minutes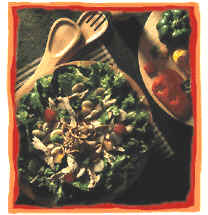 1 1/2 pkg. (3 cups) Tyson Time Trimmers Diced Chicken Breast
or 3 cups cooked, cubed Tyson Fresh Boneless, Skinless Chicken Breasts
1 can (11 oz.) Mandarin oranges, undrained
1/3 cup sweet and sour sauce
1/2 teaspoon freshly grated ginger
1 can (8 oz.) water chestnuts, drained and chopped
1/2 cup thinly sliced green onions
1/2 green bell pepper, cut into 1-inch pieces
1/2 red bell pepper, cut into 1-inch pieces
4 cups Romaine lettuce, torn into bite-sized pieces
1/4 cup thinly sliced almonds
2 cups chow mein noodles
1 tablespoon sesame seed, toasted

To make dressing, drain oranges, reserving 1/3 cup juice; set segments aside. In large glass bowl, combine orange juice, sweet and sour sauce and ginger. Add chicken; stir well. Add water chestnuts, green onions, peppers and lettuce to chicken mixture. Toss to mix well. Gently stir in reserved oranges and almonds.

Serve salad with chow mein noodles; top with sesame seed. Refrigerate leftovers.

Tip: Add yellow bell pepper for additional color. For additional flavor, marinate chicken in dressing, covered and refrigerated, for about 30 minutes.

Calories 504 Total Fat 20g Protein 38g Carbohydrates 44g Cholesterol 101mg Sodium 336mg
Source: TYSON FOODS, INC.