Strawberries (Blueberries) N' Cream Crepes
serves 8
Crepes are well known in France where you can buy them on any street corner. Now you can make them at home just as delicious as the authentic French. There are so many different crepe fillings but thought everyone would enjoy these.
Basic Crepe: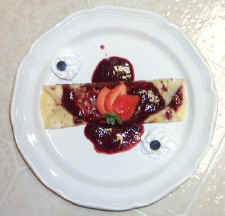 1 cup flour
3/4 cup water
2/3 cup milk
3 eggs
2 Tbs. salad oil
1/4 tsp. salt

Filling:
1 Pkg. (8 oz) cream cheese
1/4 cup brown sugar
1/4 cup sour cream
1/3 cup sugar
3 cups strawberries, sliced (or blueberries)
whip cream

Crepe:
(You can make the crepe ahead of time and freeze (wrap in wax paper.) Then fill before serving.)

In a food processor or blender, combine all ingredients and blend until smooth. Turn the processor off and scrape down the sides of the bowl.

Cover and refrigerate for at least 1 hour. With a spoon stir batter until blended.

Heat pan on med - high heat. Lightly oil the pan (cooking spray is fine.) As you add batter using a ladel tilt and swirl the pan so the batter very thinly covers the bottom.

Turn the crepes using a spatula and your fingers when the surface looks dry and the underside is golden brown. You can stack the crepes on top of each other.


Fill the Crepes:

Beat cream cheese, brown sugar, and sour cream in a bowl until smooth.

Spread about 2 Tbs. Cream cheese filling on the light side of the crepe and roll. Place crepes on a baking dish. Sprinkle with 2 Tbs. sugar. Broil until the sugar is melted, about 2-3 minutes.

You have 2 options: 1) You can crush 1/2 the strawberries (blueberries) with remaining granulated sugar in a food processor; Then stir in the remaining berries. Or you can crush all the berries at one time if you don't like chunks of fruit.

Heat in a saucepan to simmer. Arrange each crepe on a plate and spoon the warm berry mixture over each one. Garnish with whip cream and whole strawberries or whatever fruit is in season.

Low-fat version:

Crepes:
Use fat free milk, replace eggs using 2 egg whites and 1 egg.

Filling:
Use low fat or fat-free cream cheese, sour cream and light whip topping.

Nutrition info: (fat-free version)
Cal: 306
Fat: 5.8 g (2 crepes)
Carbs: 54.5 g
Protein: 8.5